Resources
Research Documents, Images, Etc.
I have assembled here, for public examination, significant information shedding light on the ownership of Cartwright Island and the island beaches of Gardiner's Bay. If you know of any document or other piece of research that belongs here, please send it to me. I am trying to post all research as soon as possible.
Reports on Cartwright Ownership and Public Access
Carillo Email to Town Trustees, February 18, 2019
Rod Richardson Email to Town Trustees on Preliminary Report, November 18, 2018
---
Community Meetings: Video and Text
I am addressing this issue in public at Town Meetings, and will post a variety of documents, photos and video submitted for the public record, as well as for general public view. Please review this and other pages for the information we have obtained and are posting for review. We will be assembling other videos shortly.
VIDEOS - Click Here for All Videos
Video: East Hampton Town Board Meeting, August 16, 2018
Edited for Cartwright Island Speakers only, obtained from the LTV feed.
Video: East Hampton Town Trustees Meeting, August 13, 2018
Edited for Cartwright Island Speakers only, obtained from the LTV feed.
VIDEOS - Click Here for All Videos
---
Maps, Deeds, Letters and More
Here are the Gardiner Island deeds and Royal grants. No mention of a horse, ox, beaches (!), Ram or Cartwright Island, ownership into the water, or to the low water mark. Significantly, they do not even own the beaches. You can compare language to the Trustees Dongan Patent, also presented below. Notice that GI is intended to be the home of a community, and operate as a town, like most feudal estates. In other words it is not just private land, it has a public character as a community.
---
Historical Maps and Charts
Several maps and charts showing Cartwright as a separate island:
Gallery | doc-map-charts-affadavits-1903.pdf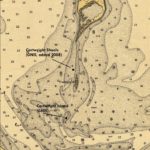 Thornton Map 1685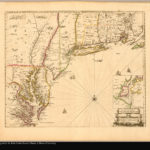 Thornton Map 1685, detail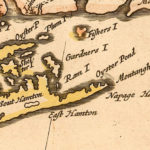 ---
Historical Documents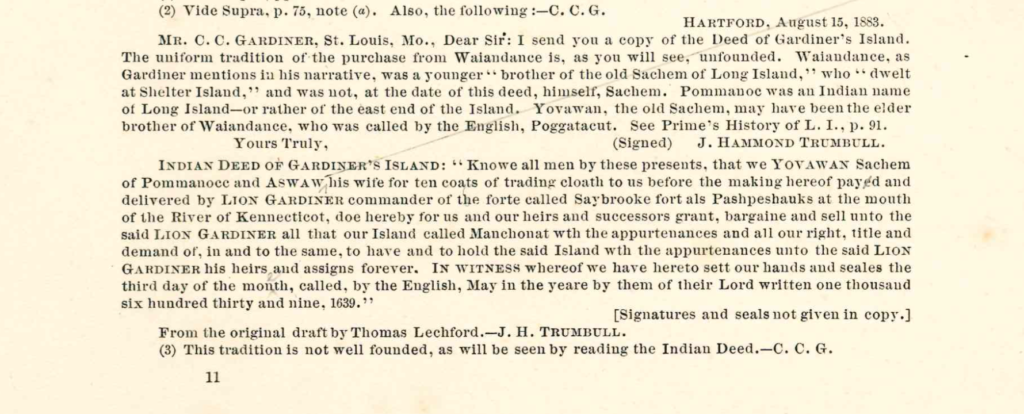 ---
Deeds, Patent & Agreements
Deeds showing the deal between the original Gardiner and the Montauk Indians:
doc-deed-indian-1639
Earl of Stirling Grant from March 10, 1639:
doc-stirlinggrant-ehrecords-16390310
Nicholl and Dongan Patent from 1665 and 1686 (Note: this Patent excludes "beaches"):
doc-patent-nicholldongan-16651005

Dongan Patent for East Hampton Trustees from 1686 (Note: this patent includes "beaches"):
doc-patent-dongan-ehstar-16861209
Queen Anne Patent of June 16, 1714:
doc-patent-qunanne-17140616
Hunting Lease, from Lion Gardiner to Clarence H. Mackay, January 1, 1915:
1915-gardiner-huntinglease-19150101.pdf
Deed 1961, to Sarah Gardiner:
1961-deed.pdf
Current County records in Cartwright file, recorded 2006 (Only shows an actual deed for Gardiner's Island):
doc-deeds-goelet-2006
---
McGintee / Goelet Agreements
McGintee/Goelet Agreement - Management, 2005:
doc-mgmt-agrmt-mcginteegoelet-20050516.pdf
McGintee/Goelet Agreement - Conservation Easement, 2006:
doc-consv-easement-mcgintygoelet-20060712.pdf
Commentary on McGintee/Goelet Agreements, August 16, 2018:
doc-rrr-comments-mcg-goelet-agmt-180816.pdf
---
DEC Enforcement Code
This document from the NYS Office of General Counsel offers guidance on enforcement affecting public access rights of navigation and fishing from and along the shore and intertidal lands. Signs such as are on the shore and in the waters of Cartwright Island and Shoal constitute a "public nuisance."
DEC Code concerning navigation and fishing
"The presence of barriers, "no trespassing" or "posted" signs, signs that threaten criminal prosecution, or oral statements by landowners discouraging navigation do not alter whether a waterway is navigable-in-fact. Rather, such posting, obstructions and statements concerning a waterway that is navigable-infact constitute a public nuisance in violation of the common law right of public navigation. Either the State or the public can sue a landowner if a landowner tries to interfere with the public's right to navigate on waterways that are navigable-in-fact. "
and
"The courts have held that it is a public nuisance for a landowner to obstruct, annoy, or hinder the public right of navigation."
and
"OPP officers should generally advise users of navigable waterways, anglers and landowners to avoid confrontation and that the civil court system is available to resolve disputes if the parties cannot amicably resolve the matter themselves."
---
Letters, Graphics, Statements and Miscellany
Statement from Citizens for Access Rights on August 13, 2018, in support of the public's right to visit the foreshore of Cartwright Island:
cart-cfar-180813-statement.pdf
Letter from Citizens for Access Rights on August 8, 2018, In support of the public's right to visit the foreshore of Cartwright Island:
doc-cfar-proaccess-20180808.pdf
Rod Richardson Article Submission to The East Hampton Star, August 5, 2018:
doc-rrr-ox-20180907.pdf
Tax Map & Satellite Imagery, GIS Overlay - New York State:
map-satellite-gisoverlay-190216.jpg
Tax Map & Satellite Imagery, GIS Overlay - Suffolk County:
map-satellite-gisoverlay-suffolk-849x846-190216.jpg
---
Cartwright Island History
Sailor Memories, The East Hampton Star, February 19, 1932:
About the Cartwrights, Frederick R. and Clifton F. Cartwright
Last summer I did some historical research into Cartwright & Gardiner's Islands, and came up with some very surprising discoveries. Especially about the naming of Cartwright, and the blue collar heroes, father and son whalers & sailors, who both braved great danger to save their crew mates. The story recounted by their cousin, Elizabeth Cartwright, appeared in the Sailor Memories section of The East Hampton Star.
See the letter expressing the opinion of famed LI historian Morton Pennypacker that the island is named for the son, Clifton F. Cartwright of Amagansett, first mate the Ida Belle (or Ita Belle), who died April 4, 1876, saving the crew. Capt. Frederick R. Cartwright, his father, would also have ranked as a local legend for his astounding feat of bravery and endurance, sailing about 1,000 miles to Honolulu, in an open boat, with a crew of 7, for 42 days, to seek help for the shipwrecked crew of the whale ship Konohasset (out of Sag Harbor) in 1845. The elder Cartwright was then 29 years old, and chief mate.
So perhaps the island is named for both heroic members of a local East Hampton family, who both lived hard life on the sea and died young.
Please note: Clifton F. Cartwright is also referred to as Clifford H. Cartwright
---
U.S. Government Survey re. Cartwright Island
Begin forwarded message:
From: "BGNEXEC, GS-N-MAC" "[email protected]"
Subject: Re: Origin of name of Cartwright Island?
Date: August 3, 2017 at 6:24:06 PM EDT
To: Rod Richardson <[email protected]> Cc: Louis Yost <[email protected]>
Thanks Rod, all very interesting.
By the way, with the help of NOAA and after reviewing the historical maps/charts, we've come to the conclusion that Ram Island is/was probably the same feature as what is now Cartwright Shoals (that is, "same", given the constantly moving topography). Therefore, we're going to add Ram Island as a variant name to the GNIS entry.
I don't recall if I replied to your follow-up question but there's nothing in the Gardiners Island file related to "Cartwright" or "Ram". Indeed, all we could find was the 1895 decision card for Gardiners Island, which will be added to the GNIS entry shortly.
My colleague put together the attached timeline of maps and charts which perhaps you'll find useful.
Best regards,
Jenny
On Thu, Aug 3, 2017 at 5:17 PM, Rod Richardson <[email protected]> wrote:
Dear Ms. Runyon,
I hope the following information with respect to the naming of Cartwright Island might be of interest to you.
This shows the first mention in the EH Star for Cartwright was in 1935. Famed LI historian Morton Pennypacker is asking the public for information concerning the change of name… it is a mystery to him.